Law Firm
Deposition, War Room, Pre Trial Training,
Courtroom, and Trial Litigation Technology Equipment Rentals
Evidence in Visual Reality
Call 503-477-8972 or email Rental Request Form
Professional delivery and setup* Rent Visual Presenters (elmo) in these Cities
Law Firm, Depositions, Courtroom and Trial Litigation
Technology Equipment Rental Solutions

Rental Request Form

iPads and the iPad2 with Face Time
for Depositions


Elmo Visual Presenters


Projectors from 2300 L to 12,000L



Desktop Computers with Graphics


Mac Book Pro


Levono Think Books


Plasma Display 42 inch - 65 Inch


LCD Displays 17 inch - 65 inch


Canon XL-2 Digital Cameras


Dual Plasma Displays

Black & White printers and
Color HP Printers

HP Copiers


32 CH. Press Feed System is useful
as a network for courtroom and media


Screens 6, 7, and 8 Foot


Polycom Teleconference and FX Video Conference Equipment


Wireless Microphone and
Self Powered Speaker Systems


Table Push to Talk
Microphone Systems


Translation and Listening Equipment
A great benefit that a war room can provide is that it acts as a rehearsal stage before going into court. Today it is used to practice the opening, closing and questioning of witnesses. A smooth court room delivery may also depend on effective use of the equipment in the court room. Therefore, a war room should be equipped with the same technology as in the court room. Some pieces of equipment to consider: A document camera (Elmo), LCD Display Monitors and Video projectors with screen. Experience with using these pieces of equipment will, no doubt, enhance the presentation of your trial.
Now rent Polycom Video Conferencing systems to support your meetings or Depositions.
Our technical support staff can setup and operate the system to ensure your meeting is a success.

Rent Laptops & use GOTOMYPC get your office files while in court or away from your computer
Audio Visual Court Room Rentals and Computer Equipment for trial preparation, training, war rooms, courtrooms and Trial Litigation. Delivery and setup in branch locations.

Courtroom setups commonly include simultaneous use of multiple audio/visual and computer equipment. These audio/visual setups can be fine tuned to allow various trial participants to view or be excluded from visual presentations. We are experienced in setting up courtrooms with video control devices for multiple presentation options such as, flat panel monitors (15" to 65"), large, powerful LCD projectors with theater style screens, and large screen video monitors.

Sophisticated presentation devices like ELMO brand visual presenters, DVD players, VCRs, Beta decks, video cameras, and computers are available for rental to round out your solution. We offer complete technical support for all equipment to ensure optimal performance. We will even arrange setup wit the court marshal or bailiff.
The right equipment is essential for the management of an efficient war room. We offer computers, LCD Monitors, printers, fax machines, and other office equipment from a single laptop to groups as in the hundreds. Technical support, delivery and installation is available nationwide with overnight services in most areas. Our rental time periods are flexible and can be customized based on the duration of each specific project or trial.
Elmo Document Cameras allow presentation of 3-dimensional objects, flat art, documents, photos, slides and X-rays. The portable Elmo Video Presenter is a color video camera mounted above a light table that can be used to display these materials in real-time onto a large video monitor or projected onto a screen.
Key Benefits
"Blow-up" anything in seconds.
Zoom-in on important areas of any document, photo, x-ray or three-dimensional object.
Reduce time of trial as evidence is shown to everyone at the same time.
While using the document camera your witness can testify from the witness stand with a laser pointer.

Trial Display Software and PowerPoint allow you to display images of documents, charts, diagrams and other exhibits onto a screen or monitor. Presentation technology is a fantastic way of organizing your case and effectively controlling the flow of the case. Elmo Visual Presenters and laptop computers enhance the impact of your arguments by focusing the attention of the judge and jury on the relevant aspects of any exhibit. Data-video LCD and DLP projectors provide powerful visualization of your evidence and case materials.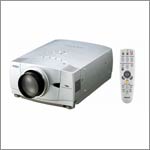 Now rent Polycom Video Conferencing systems to support your meetings. Our technical support staff can setup and operate the system to ensure your meeting is a success.
Video Conferencing is the fastest, most effective means of electronic communication available. As broadband, ISDN and DSL telecommunications emerges in the Business 2 Business market place, Video Conferencing is the best and least expensive to have meetings around the world., Conferencing can now be communicated at up to 30 Frames Per Second, giving 'near TV' picture quality. Real time data sharing can also be communicated during a conference, with up to 4 sites involved in a meeting.

Polycom units are compatible with nearly all Video Conferencing systems. Installation and usage of the units are now simply 'Plug 'n Play'. Reduce your Travel Costs, Overnight Expenses and downtime while your people are in transit and choose Video Conferencing as a faster more efficient means of arranging important meetings.
If you reside in a state or federal declared disaster area you qualify for 30% discount on all in stock equipment. Computers, monitors sound systems, video systems, Plasma Displays, LCD TV's, LCD Monitors LCD Projectors. We can ship overnight anywhere or pick up from one of our national locations:
| Dallas/Fort Worth | Fresno | Las Vegas | Los Angeles/Anaheim/Ontario/Long Beach* | Phoenix | Salt Lake City | San Diego | San Francisco/Oakland/Bay Area more
Disaster Reaction Program meet the specifications of the most meticulous Business Continuity Plans. Contact us to learn more about the program at 503-477-8972 or email Disaster Reaction Program Planning at EVENTS@expos4products.com.
Links | www.disaster-resource.com | www.fema.gov | |www.allstate.com/Catastrophe/PageRender.asp?Page=howprepare.htm |
|www.drie.org | www.rothstein.com | www.alertnet.org/ |www.colorado.edu/hazards/resources |
|www.emergency.com | www.drj.com | www.disaster-survival.com |
Trial and courtroom full-service AV equipment rentals, for clients nationwide.